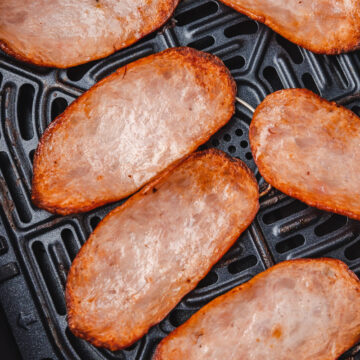 Air Fryer Turkey Bacon
Air fryer turkey bacon is such a delight! The entire process of cooking bacon in the air fryer is easy, plus it's healthier too. Using an air fryer means that you can avoid using oil, leading to a much healthier bacon alternative. The turkey bacon comes out crispy and delicious.
Preheat your air fryer to 180 degrees Celsius / 360 degrees Fahrenheit for 2-3 minutes. I used the instant vortex air fryer and it has an automatic preheating setting for 2 minutes, other brands work differently.

Place the turkey bacon rashers into the air fryer basket, ensuring that they are not overlapping too much, they can overlap just a little as they will shrink a bit as they cook.

Cook for 6-8 minutes fliping it halfway through or until crispy to your liking.

Remove the turkey bacon and place a paper towel-lined plate to absorb excess grease. Serve and enjoy!
Calories:
44
kcal
Carbohydrates:
1
g
Protein:
4
g
Fat:
4
g
Saturated Fat:
1
g
Polyunsaturated Fat:
1
g
Monounsaturated Fat:
2
g
Cholesterol:
14
mg
Sodium:
320
mg
Potassium:
55
mg
Calcium:
1
mg
Iron:
1
mg