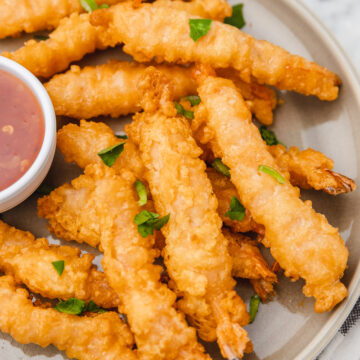 Air Fryer Tempura Shrimp
Tempura shrimps are great when fried but they're even better cooked in the air fryer. This Air fryer tempura shrimp is light, crispy, and crunchy on the outside, and delicious, tastes just like fried only that it is a little healthier. Cooking air frozen food in the air fryer is a great way to get that fried taste without all the added fat.
Preheat the air fryer at 190C/380F for 3 minutes

Place the frozen tempura shrimp in the air fryer basket and arrange them in a single layer so they are not overlapping.

Air fry the shrimp for 5-6 minutes flipping it halfway through the cooking time
Tips
Make sure to go for quality frozen food, and also read the labels. Consciously choose food made with good and whole ingredient lists and avoid the ones with artificial flavors or colors.
Do not stack the shrimps in the air fryer so that they cook evenly and avoid soggy batter. since it is very easy and quick to make, you can easily make more batches.
Calories:
35
kcal
Fat:
1.5
g
Saturated Fat:
0.4
g
Sodium:
0.07
mg
Sugar:
0.5
g